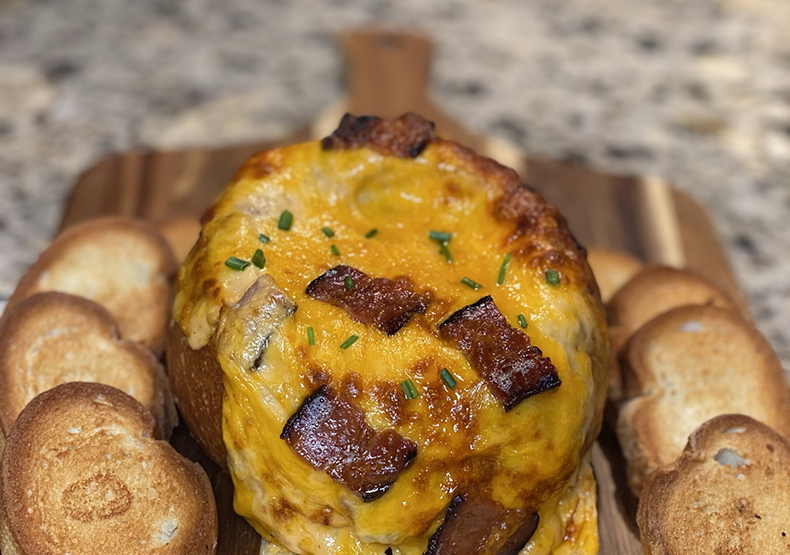 Bacon Beer Cheese Dip
by
@a_couple_fatties
"We're BACON out some new appetizer recipes this National Bacon Day using @kayembrand 's new Slow Smoked Maplewood Bacon - It is handcrafted in small batches and its taste is mouthwatering 🤤"
Bacon Beer Cheese Dip
Serves 4
Ingredients
1 package Kayem Maplewood bacon, cooked and diced
1 sourdough bread bowl
1 tbsp butter
1/2 yellow onion, diced
1 tbsp dijon mustard
1 tbsp stone ground mustard
1 block cream cheese, softened
1 12-oz beer (preferably Night Shift Santilli IPA)
4 cups shredded cheddar cheese
2 cups shredded mozzarella cheese
Dash of hot sauce of choice
Directions
Preheat oven to broil.
Melt butter in a saucepan over medium heat. Add onions and saute until translucent.
Add the beer, then stir in all three cheeses and both mustards. Mix in hot sauce to taste.
Fold in bacon bits. Place bread bowl on a baking sheet and fill with cheese dip. Top with additional bacon bits.
Broil until top is bubbling and golden brown. Serve warm with bread slices!