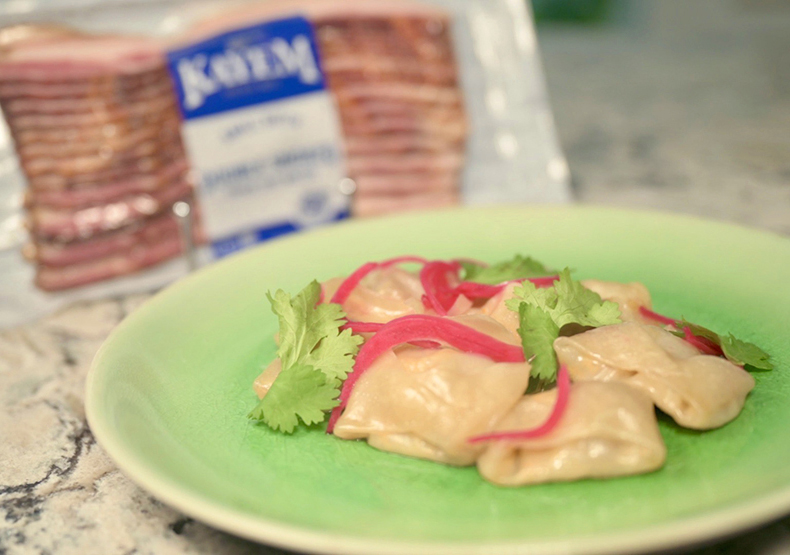 Bacon Cheddar Burger Dumplings
Bacon Cheddar Burger Dumplings
by
@stephaniecmar
"Kayem's new bacon is my go-to. The family-owned company that started in 1909 right here in Chelsea may be known for their high-quality craft meats like franks and sausages, but their new small-batch bacon is what all the buzz is about."
Bacon Cheddar Burger Dumplings
Serves 4
Ingredients
2 cups medium sharp cheddar, shredded
1/2 tablespoon kosher salt
1/2 tablespoon freshly ground black pepper
1/2 large red onion, diced
8 ounces 80/20 ground beef
1 Tbs ketchup
1 Tbs Mayo
1 tsp mustard
40 wonton wrappers
Vegetable oil, for frying
Directions
Thoroughly combine the cheddar, Kayem Bacon, salt, pepper, ketchup, mayo, mustard and onions in a medium mixing bowl using your hands. Add in the beef and combine well.
Roll out your wonton wrappers. Place a dollop of the filling into the center of each wonton using a tablespoon measure. Fold over the ends to make an enclosed envelope, and then secure by either scalloping or pressing the prongs of a fork into the edge.
Heat some vegetable oil in a saute pan.
Place the dumplings in a single layer in a large frying pan (you may need to work in batches). Add a few tablespoons of water and heat slowly, covered, until the water has evaporated, about 5 minutes. Uncover and add 1 tablespoon of the hot oil to fry the bottoms of the dumplings.