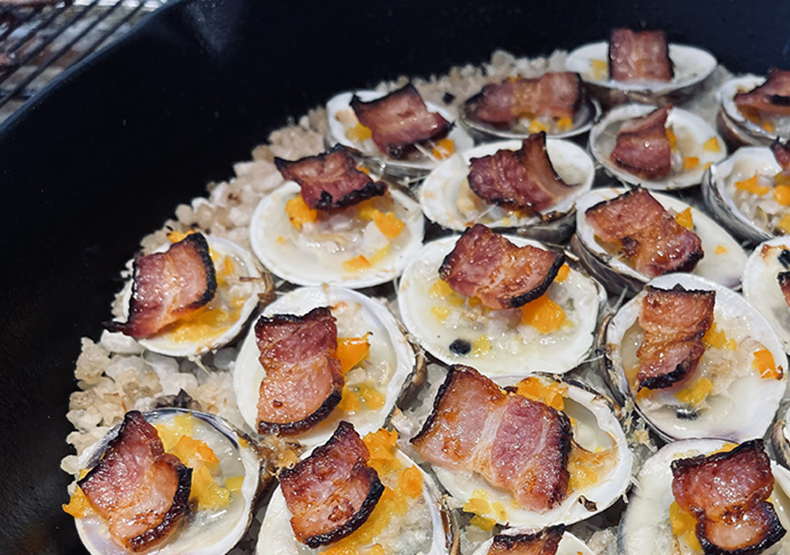 Double Smoked Bacon Clams Casino
Double Smoked Bacon Clams Casino
by
@annarossiofficial
"Bacon is something that my family is obsessed with - we use it in so many recipes! And Kayem Brand, based right here in Chelsea, Massachusetts has new small-batch bacon that is a game changer!"
DOUBLE SMOKED BACON CLAMS CASINO
Serves 4
Ingredients
4 strips of Kayem Double Smoked Bacon, diced 1" crosswise
24 Littleneck Clams, shucked and resting on the half shell in their juices
1 small shallot, finely minced
1/6 fresh yellow pepper, finely minced
1/6 fresh orange pepper, finely minced
3 Tbs parmigiano cheese, finely grated
OPTIONAL: 3 cups coarse salt for baking
Directions
Preheat your oven to broil.
In a large cast iron skillet, create a bed for nesting the clams by pouring in the coarse salt or laying empty half shells flat side down. Carefully arrange the shucked clams on top of the nesting surface in the skillet, trying to keep the shells level so as to keep the delicious clam juice in the cup of the shell while they roast.
Sprinkle a pinch of shallot, and yellow & orange pepper across each clam. Top with a square of Kayem Double Smoked Bacon and a dusting of parmigiano cheese.
Broil on the second to top rack for about 5 minutes or until the edges of the bacon have crisped and the fat has rendered.
Out of the oven dust with the remaining parmigiano cheese and serve hot.