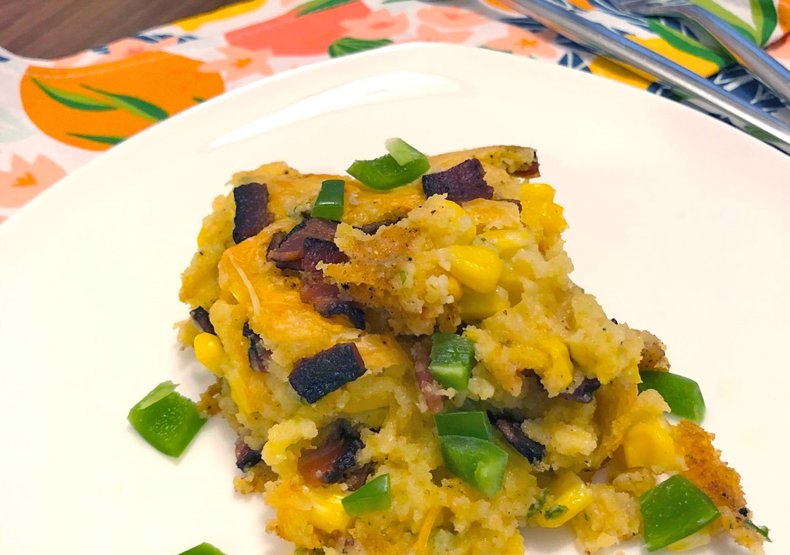 Bacon Cornbread
by
@sweet_life_of_a_wife
"Try out this bacon cornbread — it's a great hearty dish that works well as a side or the main meal!"
Bacon Cornbread
Serves 6
Ingredients
1 package Kayem Double Smoked bacon, cooked and diced
1 cup cornmeal
1 cup all-purpose flour
1 tbsp baking powder
3/4 tsp salt
1-2 tbsp sugar
1 16oz bag frozen corn, thawed and drained
1 cup milk
6 tbsp butter, melted
Ground black pepper, to taste
3-4 scallions, diced
1 1/2 cups grated cheddar cheese, divided
1 cup sour cream
1-2 jalapenos, minced *optional
Directions
Preheat oven to 350ºF and arrange rack in the middle of the oven. Generously grease a 9x13-inch baking dish.
In a large bowl, whisk together the cornmeal, flour, baking powder, salt, and sugar (amount of sugar depends on how sweet you want the cornbread). Add the corn, sour cream, and milk. Stir to combine.
Blend in the butter, black pepper, most of the bacon, most of the scallions, and 1 cup of the cheese until combined.
If using jalapenos, mix some in here (and save some for topping).
Pour the mixture into the prepared baking dish. Smooth the top and sprinkle with the remaining bacon and 1/2 cup of cheese. Bake for 40-45 minutes or until the center is set and the top is golden brown. Sprinkle with remaining scallions and jalapenos (if desired).