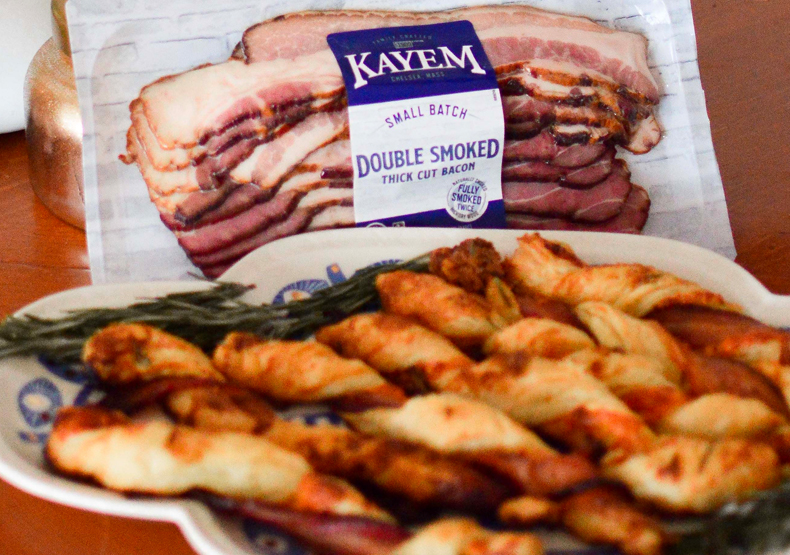 Bacon Pastry Twists
by
@alexaleconche
"Back in the kitchen again and whipped up a delicious (and easy!) appetizer with @kayembrands's new bacon🥓Their Double Smoked Bacon was perfect for these Bacon Wrapped Puff Pastry Twists."
Bacon Pastry Twists
Serves4
Ingredients
1 pack Double Smoked Kayem bacon
1/2 cup light brown sugar
2 tbsp fresh rosemary, chopped
Salt and pepper
Frozen puff pastry
1 egg, beaten
1 cup shredded cheddar cheese
1 teaspoon cayenne pepper
Directions
Preheat oven to 375ºF. Line a baking sheet with foil and spray with cooking spray.
In a shallow bowl, combine brown sugar, rosemary, salt and pepper.
Place the pastry sheets on a floured counter and brush both sheets with the beaten egg. Sprinkle the cheese over each sheet, then sprinkle on cayenne pepper.
Press the cheese into the pastry, then fold and cut into strips lengthwise. Twist the strips and pinch the ends to secure.
Wrap a piece of bacon around each pastry twist.
Toss/slide the twist in the brown sugar mix, and place on baking sheet.
Bake for 30 min and enjoy!