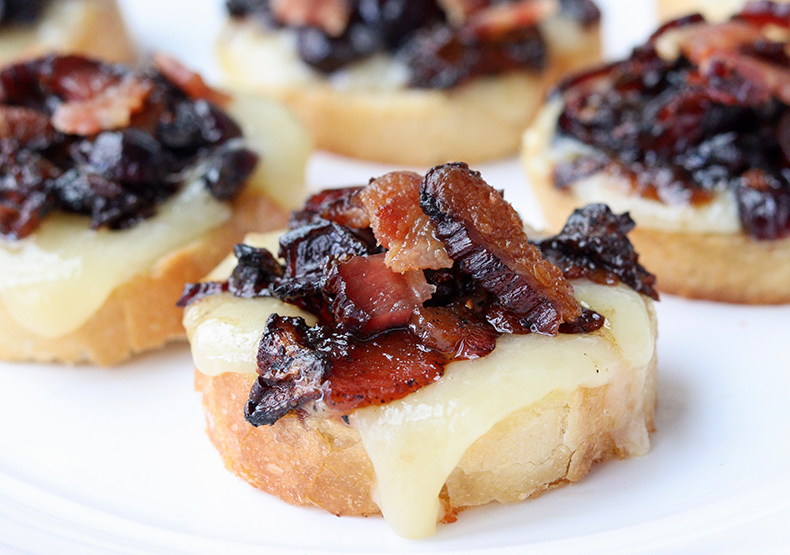 Cranberry Bacon Jam Crostini
Cranberry Bacon Jam Crostini
by
@jenniferhughes
"This is the perfect little holiday or game day appetizer! I whipped up this cozy season starter using Kayem's new extra-thick cut Maplewood Bacon & these little crostinis went fast!"
Cranberry Bacon Jam Crostini
Serves4-6
Ingredients
1 package thick cut Kayem Maplewood bacon
1 onion, minced
1 teaspoon salt
1/4 cup brown sugar
1/4 cup red wine vinegar
1/2 cup cranberry juice
salt and pepper, to taste
1 baguette (sliced)
8 ounces smoked cheddar cheese
Directions
Preheat oven to 400ºF. Cover a baking sheet in foil and lay bacon in a single layer in the pan. Bake for 20-25 minutes, or until crispy. Coarsely chop or crumble cooked bacon; set aside.
Heat 2 tablespoons of bacon fat from the baking sheet to a skillet over medium heat. Add onion and cook for 5-10 minutes, or until golden brown. Add salt, brown sugar and red wine vinegar and stir until combined.
Add cooked bacon (reserving some for topping), cranberry juice, dried cranberries and season with salt and pepper to taste. Stir and cook for 10-15 minutes, or until the jam thickens and turns brown.
Preheat oven to high broil. Place baguette slices in an even layer on a baking sheet sprayed with nonstick cooking spray. Top with sliced cheese and a tablespoon of cranberry bacon jam.
Place baking sheet in the oven and broil for 1-2 minutes, or until cheese is melted. Remove from the oven and garnish with additional bacon crumbles. Serve warm.