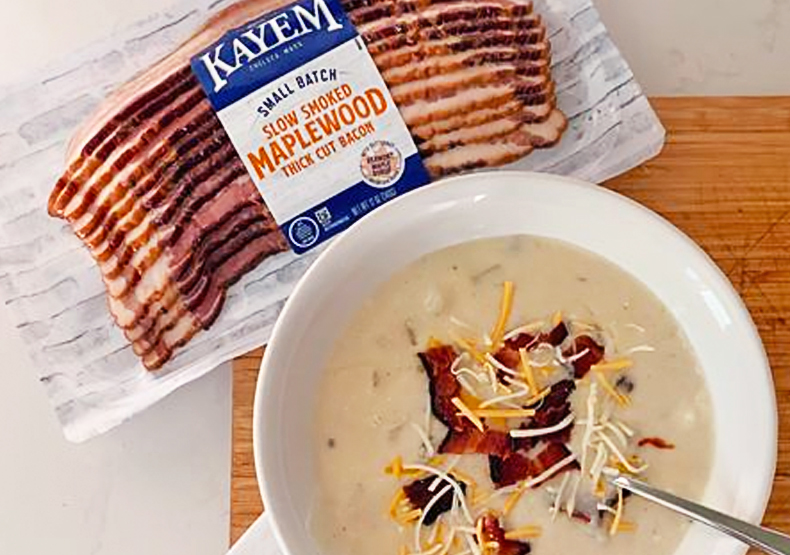 Creamy Potato Soup
by
@laurenfortsch
"Soup Season🥣 With the colder weather quickly approaching, I've been craving comfort food and this Creamy Potato Soup with @kayembrand Bacon hit the spot."
Creamy Potato Soup
Serves 4
Ingredients
6 slices Double Smoked Kayem bacon, cooked and diced
6 large potatoes, diced
3 tbsp butter
1 onion, chopped
2/3 cup heavy cream
2/3 cup sour cream
3 garlic cloves, minced
1/3 cup all-purpose flour
4 cups chicken broth
2 cups milk
1 1/2 tsp salt
1 tsp pepper
Directions
First, make your Kayem bacon! Preheat oven to 400ºF. Line a baking sheet with aluminum foil and place a wire rack on top. Arrange bacon strips side by side on the wire rack, making sure not to overlap. Cook for 30 minutes, flipping halfway through. Remove the bacon and place on paper towels. Once cool, break into small bits. Set aside.
Melt butter in a large soup pot over medium heat. Add onions and cook for 3-5 minutes or until tender.
Add garlic and cook until fragrant, about 30 seconds. Add flour and stir until smooth.
Add potatoes, chicken broth, milk, heavy cream, salt and pepper and stir well.
Bring to a boil and cook until potatoes are tender, about 10 minutes. Reduce heat to a simmer and place 5 cups of soup (about half) in a blender. Purée until smooth.
Return the puréed soup to the pot and add sour cream and Kayem bacon. Let simmer for about 15 minutes.
Serve immediately with Kayem bacon, additional cheddar cheese, and/or sour cream and baguette to dip! Enjoy!