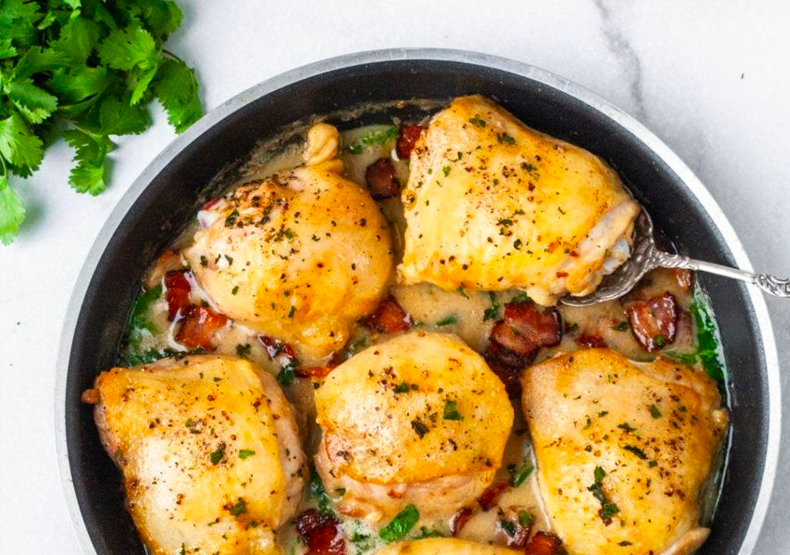 Creamy Spinach Bacon Chicken
Creamy Spinach Bacon Chicken
by
@organicallyaddison
"I'm such a fan of warm and cozy comfort foods! This Creamy Spinach Bacon Chicken combines some of my favorite foods and flavors for one delicious meal. Everything comes together in the same skillet which makes for maximum flavor and minimal clean up. This chicken is perfect for any night of the week!"
Creamy Spinach Bacon Chicken
Serves4-6
Ingredients
1/3 package Kayem bacon, chopped
1.5 pounds chicken thighs
1 tbsp olive oil
1 tsp minced garlic
1/4 tsp ground pepper
1/4 tsp sea salt
1 cup chopped spinach
1/2 white onion, diced
1.5 cups chicken broth
1/2 cup milk (or coconut milk for dairy-free)
1-2 tbsp flour
1 tbsp ground mustard
1 tsp garlic powder
Directions
Chop bacon into 1/2 inch pieces. Cook bacon in a large skillet over medium-low heat until crispy. Transfer to a paper towel. Leave 1 tablespoon of bacon fat in pan, discarding the excess fat.
Pat chicken dry with paper towels. Season chicken with salt and pepper on both sides and add to the skillet with the diced onion.
Cook the chicken for 7-8 minutes each side or until cooked through (165ºF in center).
Combine last five ingredients in a mixing bowl and mix until smooth. Pour over chicken and bring to a slight boil. Lower heat and simmer for about 10 minutes or until gravy thickens.
Just before serving, add spinach to the skille and bacon to skillet. Stir to combine and cook for 1 minute. Remove from heat. Enjoy!