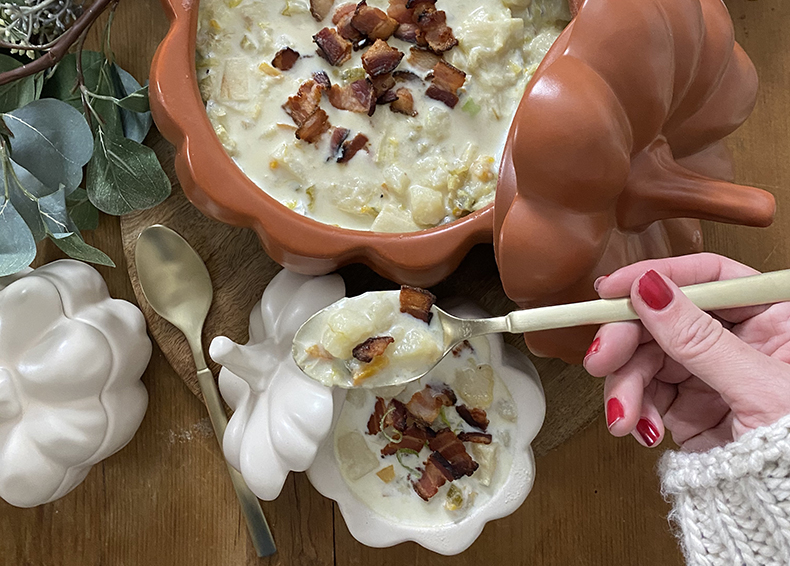 Leek Potato Soup
by
@fromthefamily
"While my mom's Leek Potato Soup is wonderful on its own, I knew the addition of bacon would be a home run. But I wasn't going to add just any bacon, oh no, it had to be Kayem Bacon. Because when you are making a family recipe, I'm pretty sure it's essential to use ingredients from local, family owned brands. "
Leek Potato Soup
Serves 4
Ingredients
4 strips cooked and diced Kayem Thick Cut Maplewood Bacon
3 medium leeks washed and cut into 1″ slices
2 tbsp butter
1 medium carrot, finely chopped
3 medium potatoes, peeled and diced
1 tbsp flour
4 cups chicken broth
1 cup half and half
1 tbsp chopped parsley
salt and pepper to taste
Directions
In a medium dutch oven, saute the leeks in butter for 2-4 minutes over medium heat. Add the carrots and celery and cook for another 3-5 minutes.
Add the potatoes and flour and cook for 3 minutes. Add the chicken broth and bring to a boil for 5 minutes. After 30 minutes, check that the potatoes are soft then add the half and half, parsley and salt and pepper to taste. Simmer for an additional 15 minutes.
Top with Kayem bacon. Serve and enjoy!