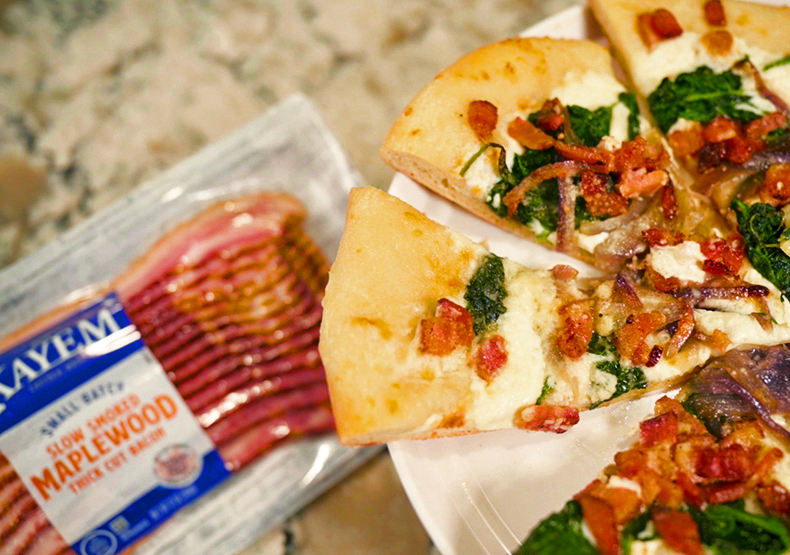 Maple Bacon, Spinach and Caramelized Onion Pizza
Maple Bacon, Spinach and Caramelized Onion Pizza
by
@stephaniecmar
"All Kayem bacon is naturally aged in state-of-the-art smokehouses with natural hardwood for the perfect batch every time... and as a chef, what I love about Kayem bacon is that it adds such interesting flavor notes to recipes you already love."
Maple Bacon, Spinach and Caramelized Onion Pizza
Serves4
Ingredients
1 lb pizza dough, store-bought
3 Tbsp olive oil, divided
8 oz baby spinach
1 large red onion, sliced 1/4-inch thick slices
1 tsp granulated sugar
1 Tbsp balsamic vinegar
2 Tbsp butter
1 large garlic clove, minced
2 Tbsp flour
3/4 cup milk
6 oz mozzarella cheese, shredded
2 oz parmesan cheese, finely shredded
Directions
Place a pizza stone in the oven and preheat the oven to 475 degrees.
Heat 1 Tbsp olive oil in a large skillet over medium-high heat. Add spinach and saute just until wilted. Transfer to several layers of paper towels and squeeze some of the excess liquid from spinach, set aside.
Add another 1 Tbsp olive oil to the skillet and set over medium heat. Add onions, season lightly with salt and saute 10 minutes. Add sugar and cook until they begin to caramelize, about 5 - 10 minutes longer, adding a few tbsp water as needed to prevent them from drying and burning. Stir in balsamic vinegar and cook 1 minute longer, set aside.
Shape pizza dough into a 12-inch round over a lightly floured surface, leaving a larger rim around the edge of dough for crust. Brush top with remaining 1 Tbsp olive oil and let rest for 10 minutes.
In a small saucepan, melt butter over medium heat. Add flour and garlic and cook, stirring constantly, 1 minute. While whisking, slowly pour milk into the flour mixture. Season with salt and pepper to taste and bring mixture just to a boil stirring constantly then remove from heat.
Spread white sauce evenly over pizza, leaving the crust uncoated. Top with half of the mozzarella and half of the parmesan, then add spinach, Kayem Bacon and onions. Top with remaining half of the mozzarella and parmesan. Using a pizza peel, transfer pizza to preheated pizza stone and bake in a preheated oven 8 - 12 minutes until cheese is melted and crust is golden.