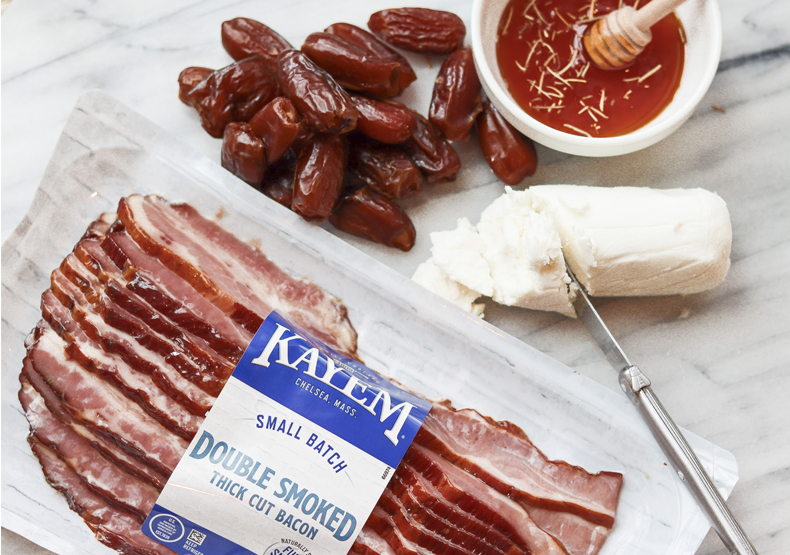 Glazed Bacon Wrapped Dates
Glazed Bacon Wrapped Dates
by
@jenniferjhughes
"Glazed Bacon Wrapped Dates are the perfect snack! A little sweet, a little savory, a little spicy, a whole lotta flavor, but just a few ingredients!"
Serves6
Ingredients
12 slices Kayem Bacon, cut in half
24 dates
6 ounces goat cheese
1/3 cup honey or hot honey
1/2 teaspoon cayenne pepper if you're not using hot honey, but want some spice
1 tablespoon rosemary
salt & pepper
optional: skewers or toothpicks
Directions
Preheat the oven to 400 degrees F and line a baking sheet with parchment paper.
Cut the dates in half lengthwise, but don't cut the date all the way through. If there are pits, remove them.
Stuff each date with goat cheese, then squeeze to seal. Wrap each date with bacon and place seam side down on the prepared baking sheet. Repeat with all dates. Skewer if desired.
Combine the hot honey (or mix regular honey with cayenne), rosemary, and a pinch each of salt and pepper. Evenly drizzle 1/2 the honey over the dates.
Bake 20-25 minutes, until the bacon is crisp. Serve warm or room temperature with any remaining honey.
TO MAKE AHEAD: the dates can be assembled and refrigerated for up to a day before baking. Drizzle with honey just before baking, then bake as directed.