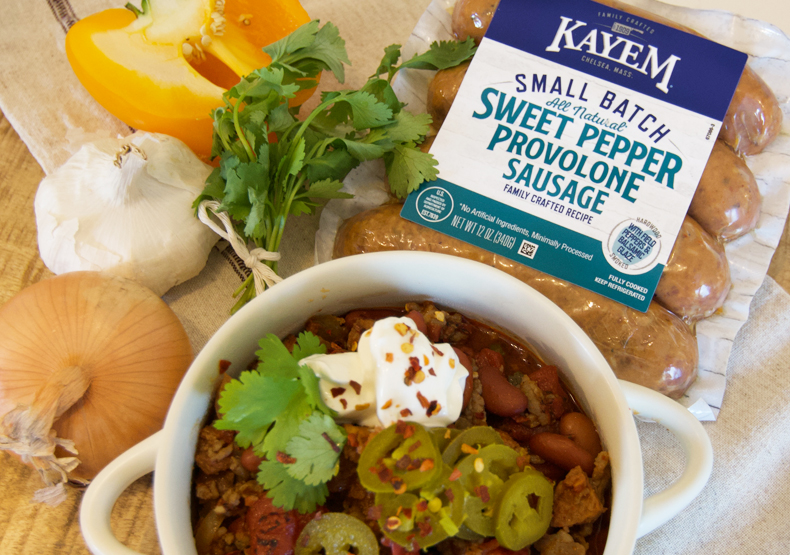 Sweet Pepper Provolone Sausage Chili
Sweet Pepper Provolone Sausage Chili
by
@nichollesophia
"Chili and Football are one of those things that just go together. Whether you're tailgating or watching the game from home, this Sausage Chili recipe is sure to be a crowd pleaser! "
Sweet Pepper Provolone Sausage Chili
Serves4
Ingredients
2 packages of Kayem Sweet Pepper Provolone Sausage finely chopped
OR 1 package Kayem Sweet Pepper Provolone Sausage and ½ pound ground meat
1 small yellow onion diced
1 bell pepper diced
1 jalapeno diced
4 cloves garlic, minced
2 ½ tablespoons chili powder
1 tablespoon oregano
1 tsp cumin
1 tsp red pepper flakes
1. 28 oz fire roasted diced tomatoes with liquid
1 14 oz can light red kidney beans drained & rinsed
1 tablespoon olive oil
Directions
Add your olive oil to a pot and heat over medium, when hot, add in your chopped sausage and cook until browned
Once the meat is browned, add in your yellow onion, jalapeno, garlic, and bell pepper, cook for 10 minutes stirring occasionally
Add your fire roasted tomatoes and liquid, as well as chili powder, oregano, cumin, and red pepper flakes. Stir and let simmer for 30 minutes.
When the 30 minutes is complete, add in your light red kidney beans and allow to heat through.