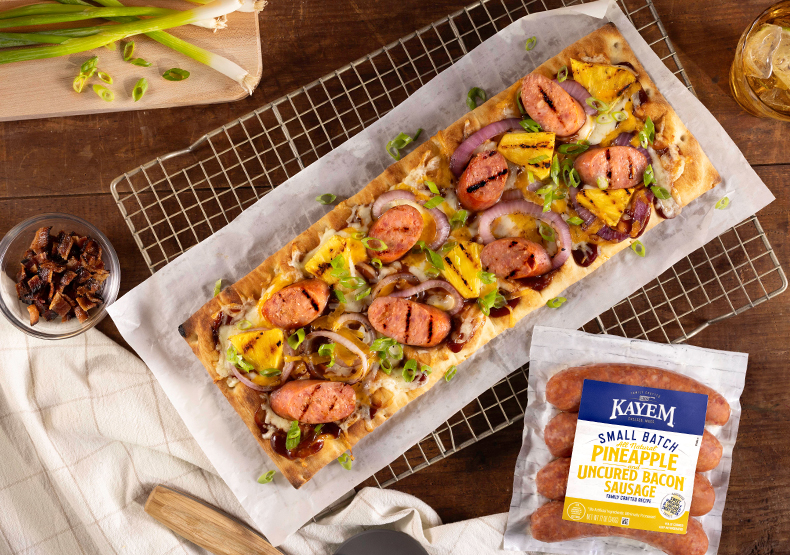 Grilled Hawaiian Pizza with Small Batch Pineapple Bacon
Grilled Hawaiian Pizza with Small Batch Pineapple Bacon
by
Chef Susanna
"For that "yum" factor, top your grilled pizza with Kayem's Pineapple Bacon sausage and grilled chunks of pineapple, it's a perfect barbeque pizza!"
Grilled Hawaiian Pizza with Small Batch Pineapple Bacon
Serves6
Ingredients
1 package Kayem Small Batch Pineapple Bacon Sausage
2 cups or ½ whole fresh pineapple, slice  1/2 " x 1" pieces
1 medium red onion, sliced
cooking spray
2 ea flat bread pizzas (7oz ea)
2/3 cup barbeque sauce (your favorite)
1 cup mozzarella, shredded
1 cup cheddar cheese, shredded
½ cup scallions, diced
Directions
Pre heat grill to high, lightly oil grates. Preheat oven to 400 df.
Grill the pineapple slices 3 - 4 minutes per side, remove and reserve. Coat the onions with cooking spray and grill until nicely browned, 2 - 3 minutes per side, remove.
Grill the sausage links, 6 - 8 minutes rotating every 2 minutes to cook evenly, or to an internal temperature of 165 df. Remove and slice ¼" thick.
Coat the flat bread pizzas with cooking spray and grill 1 - 1½ minutes per side watching carefully, remove to a sheet pan.
For the build, spread the grilled pizzas with the barbeque sauce and top with the mozzarella cheese. Follow with grilled pineapple slices, sausage slices, and red onion. Sprinkle each with cheddar cheese.
Place in the oven for about 5 - 7 minutes just to melt all the cheeses through. Transfer to a cutting board, sprinkle with the scallions and slice with a pizza wheel and serve immediately.
Serving suggestion : Serve with an arugula salad dressed with a balsamic vinegarette.