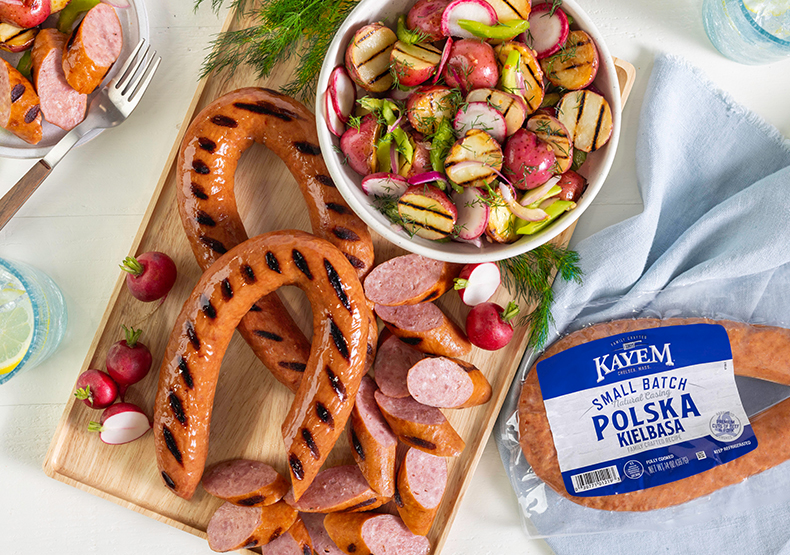 Grilled Polska Kielbasa with Grilled Potato Salad
Grilled Polska Kielbasa with Grilled Potato Salad
by
Chef Susanna
"Grill Kielbasa for juicy tender bites that enhance the savory flavors of Kayem's Polska Kielbasa. Serve with a grilled potato salad, mealtime made easy!"
Grilled Polska Kielbasa with Grilled Potato Salad
Serves6
Ingredients
1 package Kayem Small Batch Polish Kielbasa
1 ½ lbs. baby potatoes scrubbed towel dried,
cut in half
2 tablespoons vegetable oil
¾ teaspoon salt
¾ teaspoon black pepper
½ medium red onion, diced
1 ½ cups celery, slice ¼" thick on the angle
½ – 2/3 cup vinaigrette, your favorite
1 tablespoon fresh dill, chopped
2 – 3 large radishes, thinly sliced
Directions
Pre-heat grill to med - high, lightly oil grates. Pre-heat oven to 350 df.
Coat potatoes with oil and grill on cut sides face down for 10 – 15 minutes, checking periodically to achieve nice, browned grill marks. Remove to a sheet pan, season with ½ teaspoon each salt and pepper. Transfer to the oven to finish baking until fork tender, approximately 10 - 15 minutes.
Allow potatoes to cool for 20 minutes and place in a mixing bowl. Toss with the onions, celery, vinaigrette to coat ingredients. Finish with the dill, radishes, season with the remaining salt and pepper or to taste. Chill or serve at room temperature. Note: potato salad can be made a day in advance.
Grill the Kielbasa on both sides and set the grill marks well, grilling for 10 -12 minutes or to an internal temperature of 165 df.
Slice and serve the grilled Kielbasa with the potato salad.