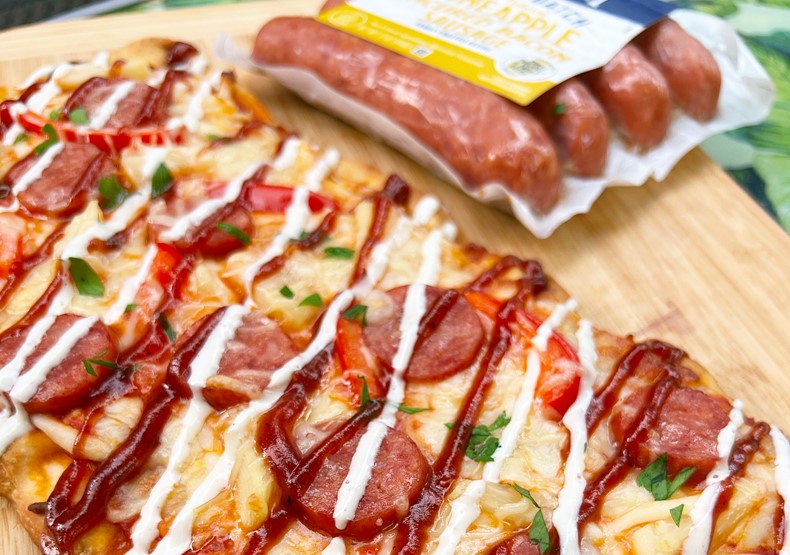 Hawaiian BBQ Flatbread Pizza
Hawaiian BBQ Flatbread Pizza
by
@peacelovejunkfood
"I made the most delicious (and easy) flatbread pizza using @kayembrand new Small Batch Sausage. The Uncured Bacon and Pineapple flavor is perfect for a Hawaiian style pizza. I used pineapple, red bell peppers, sausage, and drizzled on bqq and ranch! "
Serves
Ingredients
One package Kayem Small Batch Pineapple Uncured Bacon Sausage
Flatbread
Pizza Sauce
Shredded Mozzarella Cheese
Shredded Parmesan Cheese
Fresh Pineapple (cut into small chunks)
Red Bell Pepper (cut into thin slices)
Barbecue Sauce
Ranch Dressing
Fresh Parsley
Directions
Preheat the oven to 425ºF.
Spread pizza sauce generously over the flatbread, leaving about half an inch around the edges for crust.
Sprinkle on both of the shredded cheeses.
Slice the Kayem Small Batch Sausage into thin slices and place on top of the flatbread.
Top with sliced bell peppers and pineapple as desired.
Cook the flatbread directly on the oven rack for about 7-8 minutes.
Drizzle with barbecue sauce and ranch, and sprinkle on chopped fresh parsley.