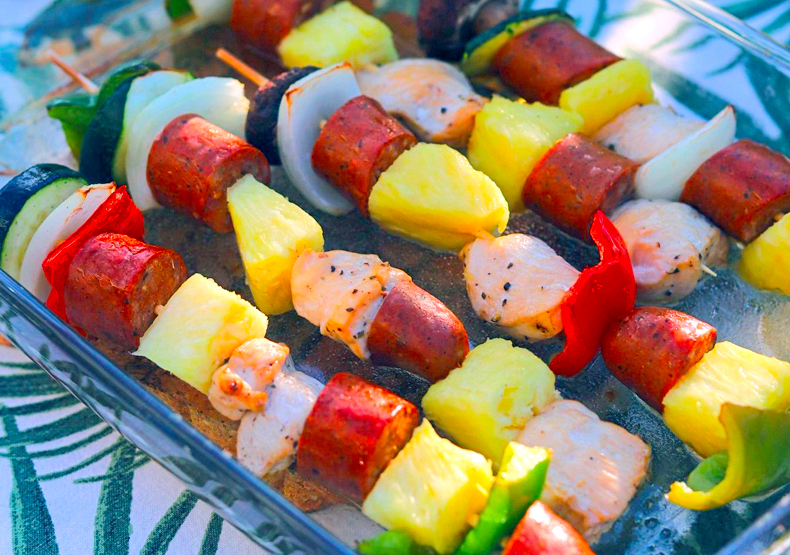 Kayem Sausage, Chicken and Pineapple Kebab
Kayem Sausage, Chicken and Pineapple Kebab
by
@sunguangyu
"It's officially summer, which means I'm ready to spend lots of time cooking delicious recipes for warmer weather! I'm so excited to introduce @kayembrand's NEW Small Batch Sausage! I'm using the Sweet Sausage to create kebabs with chicken and pineapple. "
Serves4
Ingredients
1 pack of Kayem sausage, cut into ½ inch rounds
1/2 pound of chicken breast
1 red bell pepper, seeded and cubed
1 green bell pepper, seeded and cubed
½ medium pineapple, cleaned and cubed (about 4 cups)
2 Tbsp. oil
½ tsp. kosher salt
½ tsp. ground black pepper
4 wooden skewers
Directions
Pre heat the even 375 F
Soak wooden skewers in water for 30 minutes.
Thread pieces of Kayem sausage, bell pepper, onion, mushrooms, cubed pineapple and chicken breast chunks on the soaked skewers.
Use a kitchen brush to evenly coat k e bab with oil, sprinkle with salt and pepper.
Put the kebab into oven and bake 25 minutes, checking that the chicken is done.