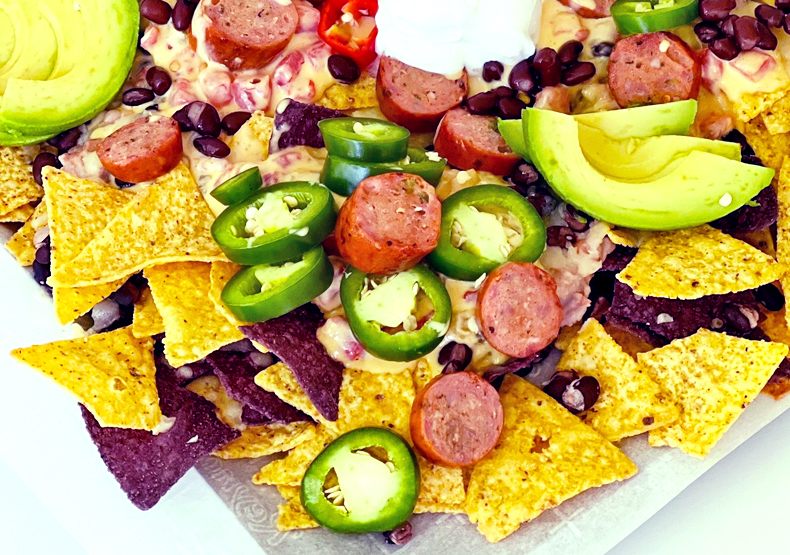 Pepper Jack Nacho Tray Recipe
Pepper Jack Nacho Tray Recipe
by
@citygirlcece
"One of my favorite summertime dishes is a simple and delicious nacho tray. It's easy to make and perfect for sharing. "
Serves6
Ingredients
1 pkg Pepper Jack Kayem Sausage
One 16 oz can pinto beans
One 16 oz can black beans
One 10oz can of dice tomatoes and green chiles
8 oz Pepper Jack cheese, shredded
8 oz block of melting cheese
8.25 oz bag of yellow corn tortilla chips
8.25 oz bag of blue corn tortilla chips
1 avocado, sliced
8 oz sour cream container
Optional:
2 fresh jalapeños and 2 fresh Fresno peppers, sliced
Directions
Preheat oven to 350°. On a medium fry pan, cook one package of Kayem Pepper Jack Sausage on medium heat for 15 minutes or until fully cooked. Once fully cooked, slice the sausages into quarter inch bites.
In a small saucepan simmer the pinto beans on medium heat and mash them until creamy. Set aside. Open the 16 oz can of black beans , rinse using a strainer and s et aside.
n another medium saucepan , combine the melting cheese along with the 10 oz can of diced tomatoes and green chilies. Simmer both ingredients on medium heat to create a queso. Stir occasionally until fully melted and then set aside
Line a large baking tray with parchment paper. Evenly layer the blue corn tortilla chips. Top the blue corn tortilla chips with an even layer of yellow corn tortilla chips. Carefully spread the mashed pinto beans on different sections of the nachos. Spread the whole black beans on sections of the nachos not covered by the pinto beans. Sprinkle the shredded pepper jack cheese across the nachos. Drizzle the melted queso as desired. Layer the sliced Kayem Pepper Jack Sausage on top of the queso.
Carefully place the tray in the preheated oven for 10 minutes. Once r emoved, top the Pepper Jack Nacho Tray with sliced jalapeños, sliced Fresno peppers, sliced avocado and dollops of sour cream. Now you are ready to dig in and enjoy!