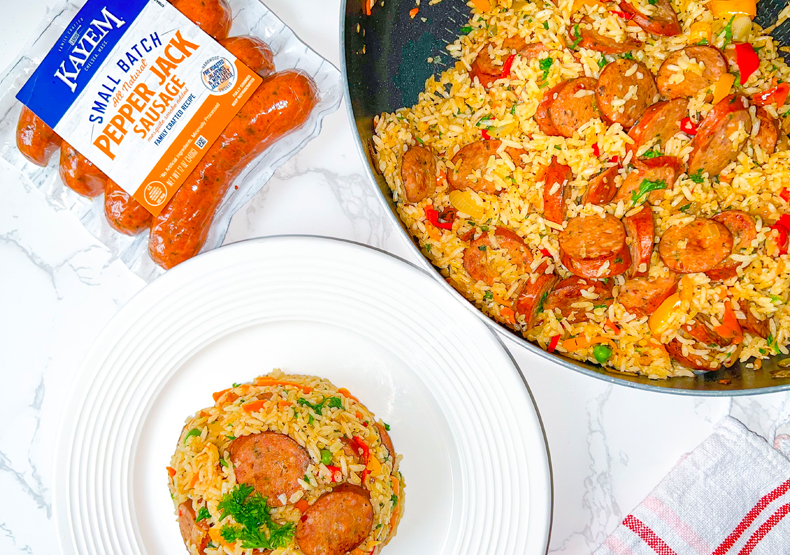 Pepper Jack Sausage Fried Rice
Pepper Jack Sausage Fried Rice
by
@hoangviton
"This is an easy crowd pleaser you must make this summer and beyond! It's loaded with fresh veggies and herbs and has this yummy @kayembrand Small Batch Sausage that's Pepper Jack flavored so if you like bold flavors with a bit of a spice, this recipe is a must try! "
Serves6
Ingredients
12 oz Kayem Small Batch Pepper Jack Sausage sliced
2 cups of white rice (pre cooked on the side)
1/2 cauliflower head, cut into small florets or 2 bags frozen cauliflower rice
1/2 red bell pepper, sliced
1/2 yellow bell pepper, sliced
1/2 orange bell pepper, sliced
1/2 onion, sliced
3 tablespoons avocado oil
1 tbsp of fresh garlic
1 teaspoon Italian seasoning
Salt and fresh cracked pepper
Fresh parsley, chopped
Directions
If you have a cauliflower head you can put it in a food processor or lightly blend till a rice, chunky consistency or you can chop finely into "rice". I find it easier to just use frozen riced cauliflower and steam it in the microwave for about 3 minutes then strain it and let it cool in the coriander until we add it into the skillet or pan. For this recipe I only used half a bag of the frozen riced cauliflower.
After you've thawed the cauliflower rice, set it aside.
Dice all of your bell peppers, onions, and fresh garlic (if it's already minced then no need).
Start cooking your white rice as directed from the rice package. This recipe only calls for 1 cup of rice, since we're doing half rice and half cauliflower rice.
While your rice is cooking in a skillet or pan, add in your avocado oil, your vegetables, and sliced Kayem Small Batch Sausage in Pepper Jack and stir around until the sausage is lightly browned and cooked on the outside
Then add in 2 cups of cooked white rice and mix evenly.
Add in your salt, pepper, Italian seasoning, and parsley. Then stir and mix evenly.
Lastly add in 1cup of the frozen riced cauliflower and mix it all together and stir around on medium heat until everything is evenly distributed.
For added flavor and umami, this is optional, I like to add in some Maggi Soy Sauce seasoning.