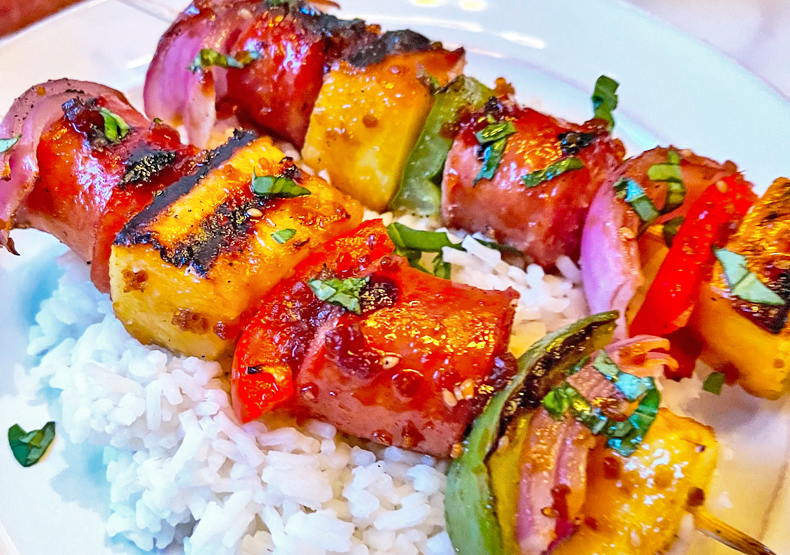 Pineapple Bacon Sausage Kabobs
Pineapple Bacon Sausage Kabobs
by
@travelikealocalma
"When I heard about the Pineapple Bacon Flavor, the first thing that came to mind was to grill up some kabobs with fresh pineapple and veggies, glazed with teriyaki sauce. I served mine over rice (soooo good!), but they would also be great with a simple side salad."
Serves4
Ingredients
1 pack of @kayembrand Pineapple Bacon Small Batch Sausage
2 cups of fresh pineapple, cut into chunks
1 red onion (or 2, if small)
1 red bell pepper
1 green bell pepper
Teriyaki Sauce (I like Soy Vay Veri Veri Teriyaki)
Metal or wooden skewers
Directions
Heat your grill or a grill pan on the stove.
If using wooden skewers, soak in water for at least 10 minutes.
Cut each Pineapple Bacon sausage link into four chunks, and cut your peppers into two inch pieces.
Peel your onion and slice off both ends. Cut it in half, and then quarter each half.
Thread your skewers with sausage chunks, pineapple pieces, red onion and peppers. Place on the hot grill.
Once the sausage is browned and the veggies are starting to cook, brush with teriyaki sauce on all sides and grill until veggies are fully cooked.
Remove from grill, and brush with extra teriyaki sauce. Serve over rice or with a green salad.