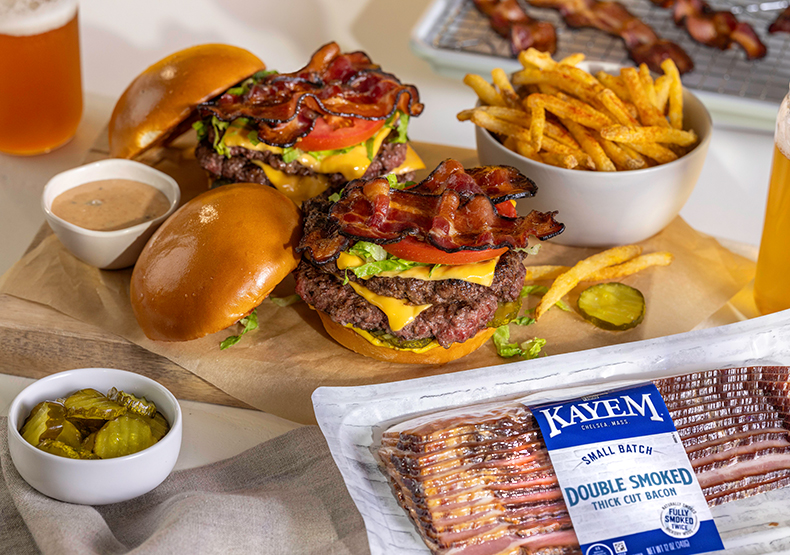 Smashed Burger with KM Double Smoked Bacon
Smashed Burger with KM Double Smoked Bacon
by
Chef Susanna
"Make it better! Top your smashed burger with Kayem's Double Smoked Bacon for that added layer of savory, smoky flavor in every bite!"
Smashed Burger with KM Double Smoked Bacon
Serves 4
Ingredients
1 package Kayem Small Batch Double Smoke Thick Cut Bacon,
(2 slices per serving)
1 pound ground beef 80/20
2 teaspoons vegetable oil
4 Brioche Burger Rolls, slice in half
3 tablespoons butter
8 slices of cheddar cheese or American cheese
2 tablespoons grainy mustard
½ cup dill pickles (or your favorite)
1 cup shredded lettuce, loosely packed
1 medium tomato, cut into round slices
Directions
Pre-heat oven to 350df.
Place bacon slices on a sheet pan with parchment paper and bake for 15 minutes. Turn slices over and drain off excess fat if needed. Continue baking until bacon is well browned 5 – 7 additional minutes. Remove immediately and place on paper towels to drain, cut slices in half, reserve.
Portion the ground beef into 2-ounce equal meatballs formed loosely, season with salt and pepper.
Melt butter in a skillet on medium heat and brown/toast burger rolls.
Meanwhile, heat a large non-stick skillet* on medium-high heat, allow pan to get hot. Coat pan with oil, one at a time, place a meatball into the pan and flatten with a large spatula, don't move until ready to flip, cooking about 90% of the way. Cook each for 1 ½ - 2 minutes per side, flip and cook evenly on the other side. For the best results, use a burger press.
Remove to a warm plate and top each smash burger with a slice of cheddar cheese.
For the build, spread each bottom with the mustard, and top with dill pickles. Layer 2 smashed burgers a top one another. Top with shredded lettuce, and a tomato slice. Finish with 4 half slices of the cooked bacon in a lattice pattern, and the bun top.
Optional toppings – grilled onion, thousand island dressing, ketchup, mayonnaise, relish. Serve immediately
*When using a gas or charcoal grill, place a flat griddle top over the grates and then follow the instructions above for the smash burger.