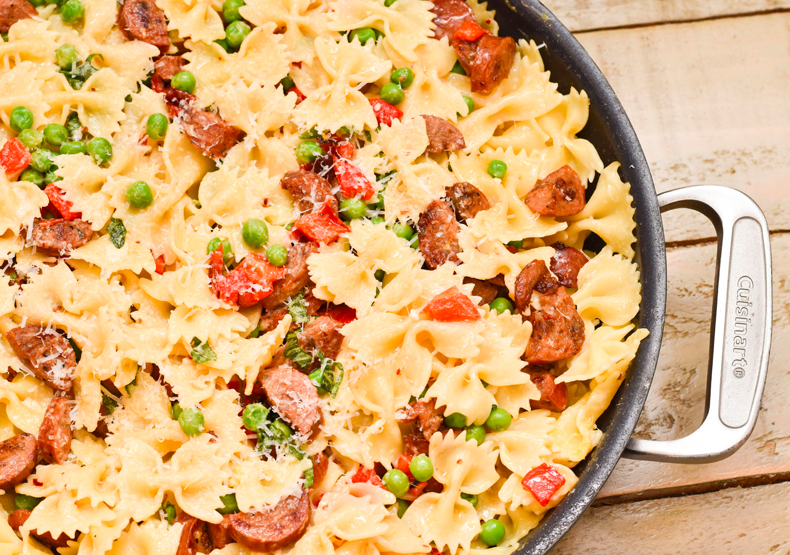 Summer Sausage Pasta
by
@cookinwithbooze
"I have a summer recipe that y'all are going to love! Summer Sausage Pasta using @kayembrand Small Batch Sausages. Sausage can be associated with heavy dishes, but I designed this recipe to be light and packed with veggies for summer."
Serves4
Ingredients
1 teaspoon zest (about 1 lemon's worth)
4 TB lemon juice (2 Oz)
12 oz pack of Kayem Sweet Pepper Provolone Sausage
1 lb Farfalle
3 TB butter
4 TB olive oil
2 cloves garlic, minced
¼ tsp red pepper flakes
½ cup roasted red peppers (you can roast 1 pepper or buy them at the store)
1 cup frozen peas, thawed
¼ cup fresh basil, chopped
½ cup grated parmesan cheese
Salt and pepper to taste
Directions
Bring a large pot of salted water to a boil and put a medium-large skillet over medium heat with 1 TB olive oil.
While the water is coming to a boil, dice your sausage, chop your garlic and basil, and grate your Parmesan.
When the pan is hot, add in your sausage to brown.
When the sausage is brown, take it out of the pan.
When the water comes to a boil, add in the pasta and cook for 1 minute less than the package instructions.
Add 3 TB butter and 3 TB olive oil to the same pan that the sausage was cooked in over medium heat.
Once the butter melts, add the garlic and red pepper flakes to the pan and saute for 3-4 minutes.
Add your cooked pasta to the pan.
Add in the lemon juice, zest, pasta water, Parmesan cheese, mix, then cook for 1-2 minutes.
Stir in the roasted red peppers and peas and finish with fresh basil. Stir in the sausage.
Top with more Parmesan cheese and serve.